Meet Lindsey McMahon, a kindergarten teacher based in USA's California, who is sprinkling the Disney magic on her neighbourhood street. What started as a family activity, soon turned into a weekly on-demand activity for her neighbours.
"I had some chalk paint and chalk. My kids and husband were working on a castle. I was like, 'I'm gonna do the genie!' Then some neighbours were like, 'What about the UP house?'" It snowballed from there. Neighbours were saying, 'What are you gonna do this week?' Then I felt like, Oh, I'll keep doing it," Lindsey said.
Since then she has used her chalk-art to draw characters like Olaf from "Frozen", Ariel, Sebastian and Flounder from "The Little Mermaid", Fairy Godmother from "Cinderella", Nemo and Dory, and the Hitchhiking Ghosts from "The Haunted Mansion". Along with the characters, Lindsey also puts out hopeful and positive messages through her street art. She shared, "With Ariel, Sebastian and Flounder I put the quote, 'The Human world is a mess' trying to lighten the mood. With Olaf: "COVID's a good time to stay in and cuddle. But when this is over I'll be a happy snowman!"
Although it's tough for her to find chalk in the lockdown days, she wants to continue working on this weekly activity for her neighbours. She shared, "Just to have neighbours drop little notes and say thank you for redoing the chalk at the end of your driveway and things like that, makes me happy."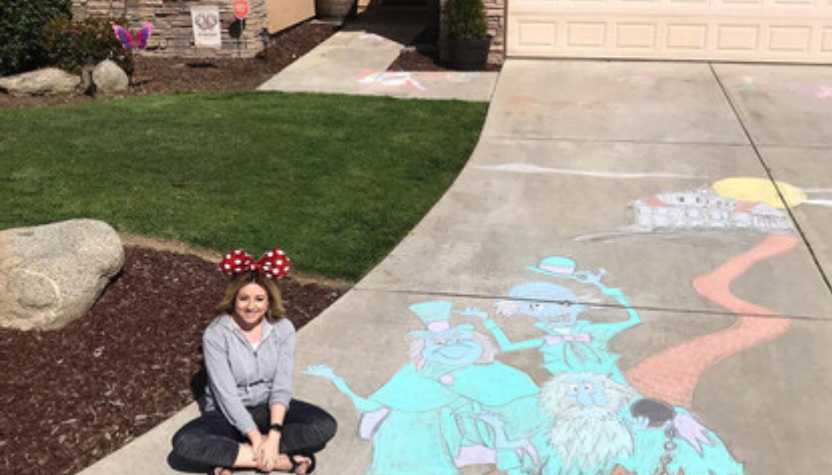 ScooNews is all praises for her and people like her, who are relentlessly trying to bring smiles on people's faces in these tough times. We, more than ever, need to work as a community, maintain the humanity harmony, and help each other sail through this pandemic. From the heart, thank you!
Source: Fox26 News