The Atal Tinkering Lab program is leveraging the skills, abilities and experiences of dedicated Indian professionals called Mentors of Change – who volunteer their time for on-the-ground activities to engage students and teachers in identifying problems in and around their communities and creating innovative solutions leveraging the ATL technologies to achieve the objectives of the program.
Mr. Kiran Kumar was chosen as a Mentor Of Change by Atal Innovation Mission in 2018. He guides and teaches children about the practical approach of STEM and other technological aspects of the Tinkering Labs set up by AIM. Mr. Kumar is an innovation and product strategy & management professional with over 25 years of work experience, where he served in leadership, managerial and technical positions. Probably that's why he was chosen as one of the Mentor of Change winners. However, another reason could be his long association with the educational field through various NGOs, where he used to mentor and teach children from less-privileged backgrounds as a volunteer. No wonder he's been recognized by Atal Innovation Mission as "Exemplary Mentor" twice, as "Top Mentor" on 10 occasions, and has been appointed as a "Regional Mentor of Change" in Karnataka.
When ScooNews spoke to Mr. Kumar one to one, we learned that he spends about 3 hours per session with his students. Before the pandemic, he would have two such sessions per week, however, the lockdown did not stop him from reaching out to his students in any way. He informed us how, in order to make his students spend their time qualitatively, he developed a web-based online Innovation Portal so they could access several innovation-related learning materials and technology tools online from the comfort of their homes
But that was not all he did. Over these last few months, Mr. Kumar has developed several virtual portals and has come up with significant ideas that have been incorporated by AIM making learning, for not just his students but students nation-wide, even more effective.
Talking about one of many such brilliant projects, he shared about the 'Solopreneurship' challenge programme with us. Mr. Kumar believes that, in this era of technology where common jobs are becoming redundant because of Artificial Intelligence, children should bring forth the inner entrepreneur and the sooner this happens, the better. "Why wait to get older and realise that the world is moving at a pace unnatural to human comprehension", he questioned. That's the reason he continuously motivates his students to break the barrier and experiment more often and not just blindly follow the tool kits kept on their tables.
His motto is 'do not reinvent the wheel but think outside the box.' The way he mentors his students to execute the project and make a prototype is inspiring. These prototypes, when approved by AIM, may get funded and could be manufactured on a large scale. And if it is a digital code or application, it does not take a lot for those children to become 'solopreneurs.' "In simple terms, a student with a brilliant idea does not need to grow up and build a company to market their ideas," explained Mr. Kumar. According to him, any student's interest may get him/her into solopreneurship, there is no prerequisite for it.
Many of the projects he's mentored are designed to cater to the needs of school managements and ATLs. An appropriate example, according to Mr. Kumar, would be a project by a grade 6 student who developed a product using Augmented Reality. The project was created for a better understanding of the monuments of the world. In this, there will be barcodes on the lessons which, on being scanned, will open an in-depth video (360-degree view) for the students to watch and learn from. How interesting!
He then talked about another project by grade 10 students called 'Attendance System,' in which the innovators used an AI tool that would pre-record the faces of students and have them saved in the memory. On entering the classroom, the children would need to stand in front of the device for a few seconds which would register their attendance. This way, the teachers will not have to spend time taking attendance in the class. Brilliant, isn't it?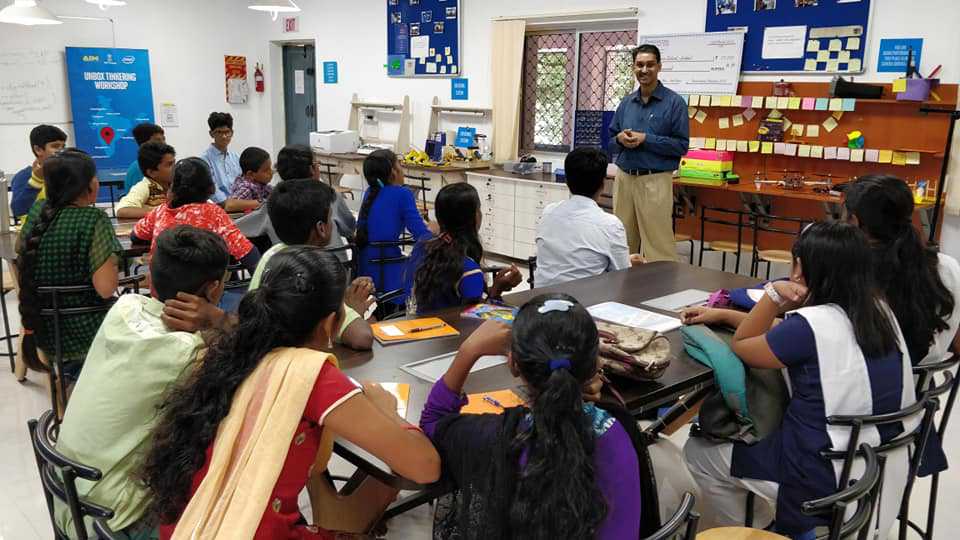 Another venture that Mr. Kumar has made possible is the ATL Store (https://sites.google.com/view/atl-store) - a collection of products made by his students over time. Administrations of schools and other companies can buy these products as per their needs, and school students may also check if the idea they want to work on has been worked before or not. "It is a one-stop-shop where there are paid and free-of-cost projects and papers available to be downloaded," he shared.
*Disclaimer: AIM is not directly associated with the ATL Store created by Mr. Kumar. The Store is solely an initiative of his students.
Another of his ideas is 'Innovation Hub' where innovations done by each and every ATL innovator can be saved. It will be like a little black book of the nation, anybody who is working on an innovative idea may register their project here. In Mr. Kumar's view, this could act in the betterment of the scientific community. Instead of wasting time on working again and again on the same thing by different teams, they will have a place to go to and check if that particular innovation has been done before or not. He also envisions a society where companies may hire young talent based on the Innovation Hub's data. They may choose interest wise and can handpick young talents from across the nation. He strongly believes that this may help build a better future for our country, and we agree with him.
After all these mind-blowing ideas, Mr. Kumar's greatest achievement, according to him, has not been these ventures or projects. For him, the life-turning event has been teaching his students. "Seeing my mentees all excited and innovating is the best feeling," he told us with a smile on his face.
Mr. Kumar left his IT-based work to teach school students full-time and now, he only wants to concentrate on bettering the learning experience for them. After working tirelessly for this long, he is not yet out of ideas but is even more motivated to come up with something extraordinary very soon. Such educators are nothing but a boon to the education society. Agree?