Fangane village in Maharashtra is getting popular for owning a one of its kind school, the Aajibaichi Shala (Grandmothers' School). The school was inaugurated on International Women's Day, 8 March 2016, by a local primary school teacher named Yogendra Bangar and is being supported by Motiram Dalal Charitable Trust.
Talking about the inspiration behind this noble idea, Yogendra says, "It's not as if they want to go to college or work in an office now. But they do want to be able to read and write, and sign their names, like everyone else in their families."
Nobody ever thought of teaching grannies until the Chatrapati Shivaji Diwas celebration of 2016, when elders of the village gathered and someone, very casually, said 'how nice it would be to be able to read the holy script by themself.'
"It was a casual comment by one of the elderly women that eventually manifested into a school. I asked them if they would be willing to learn basic literacy and all of them jumped at the opportunity. What impressed me the most was that some of them followed up with me the next day. Their willingness and thirst for education won my heart," Yogendra tells The Better India.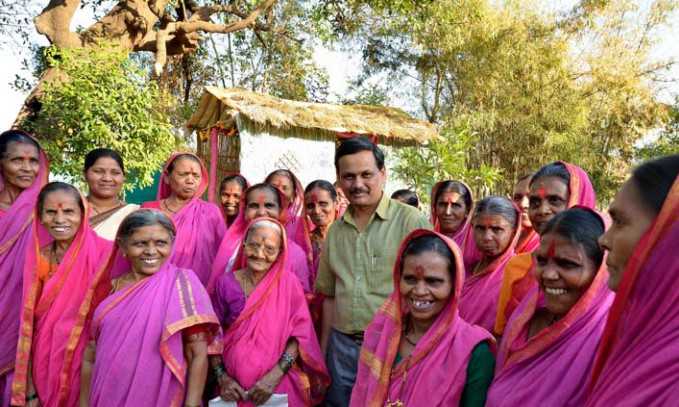 Yogendra now overlooks this special school as he has to teach the children of the village as well. Sheetal More, who studied till grade 9 during her schooling years, now has taken over teaching the 'aajis' of Aajibaichi Shala. Sheetal's mother-in-law is also one of the students amongst the 30 aajis aged between 60-90 years. "Dealing with aajis requires a lot of patience. Their learning, understanding and grasping pace is slow. Sometimes they even forget lessons taught in the previous class. Being stringent with elderly and my mother-in-law who I respect a lot is not easy. But despite these problems, they don't miss class," says Sheetal.
The foremost thing to remember about education is that it is not bound to age, gender, sect, religion, etc. Anybody who wishes to learn is a student and anybody brave enough to even try and teach such a learner is a great teacher. Educators like Yogendra Bangar and Sheetal More are setting an example for generations to come. So are the enthusiastic aajis, when these grandmothers of such a small village can dress up in the uniform of bright pink sarees to go to school, clearly others can do so, too.